How To Make Your Living Look Expensive Without The Cost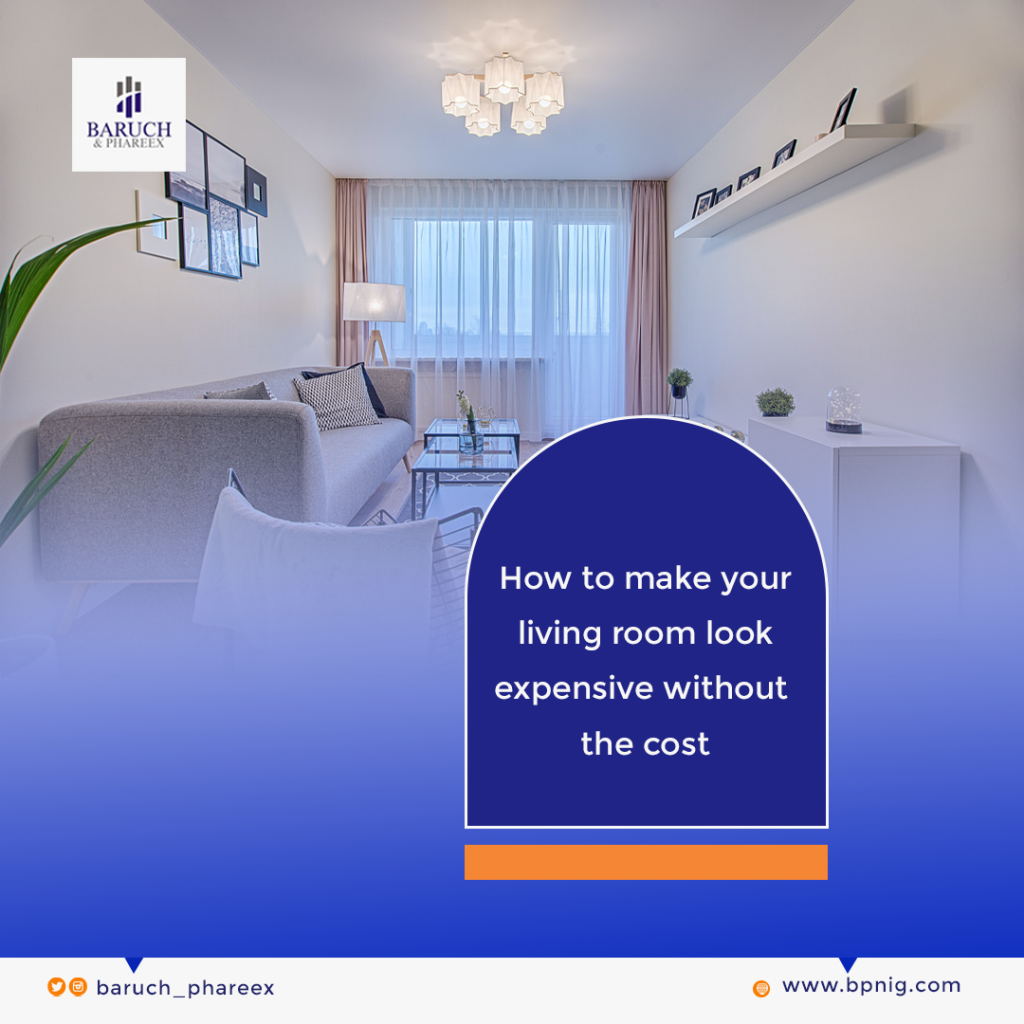 Some people believe one must break the bank to make a place look expensive or beautiful. This is however not true, not everyone has the resources to have expensive homes but that does not mean you can't also look the part. 
It's all about the illusion. 
You might think for a living room to look expensive you need to have designer sofas, Persian rugs, marble coffee tables and the likes, this article shows you how to make your living room look expensive without the cost that should come with it. 
Why the living room? Well, the living room is the first thing people see when they come to your home, and as the central feature, it's an area you should show your style especially when you want to revamp it.
Without much ado, here are tips to help you make your living room a luxurious beautiful space.
Luxurious living rooms always look chic and sophisticated rather than messy and disorganized.
So the first step to revamping your living room to look expensive is by decluttering your space. Get rid of some accessories, simplicity is key here. 
Only retain pieces that have sentimental value or strong memories so as to enable the remaining elements to really shine.
Mirrors are great for adding light and depth to your home interior. You can make your living room look spacious by beautifying it with little mirrors here and there. 
Light and space are two of the things that drive up the cost of expensive homes, so fake it in your living room. By doing so you get your living room looking more luxurious. 
Give your living room character by using statement-furniture. This is a major way of making your living room look expensive and exquisite. Statement furniture whether it's a sofa or a table adds character and charm, elevating the whole space.
One tip is for you not to put the furniture against the wall, instead give a little space from the wall. This would end up giving your room a spacious look thereby creating a spacious look for your living room.
This is another very useful tip, you can go creative with a mix of print or patterns and colors for your living room that can give you a custom-designed, luxurious look. One thing to note is that when you mix patterns, you need the right combination of shape, color, shade, and size to create a harmonic vibe within your living space. This is because the types of patterns you choose will determine the overall feel of your room.
You can even decide to mix metals, glass, wood, a variety of textiles, and leather items to create a dynamic, inviting space.
Paintings and other artworks have an interesting way of making the living room look luxurious. Some people already know this, which is why paintings are widely used.
So create a focal point and give your space some wow factor by hanging an oversize piece of art by itself on one of your living room walls. If you do not want to get an oversized one you could get a small size painting. Better still if you are the creative type you can even hang up your personal creation. All you will need is a large canvas and some paint and acrylics.
Get your living room a custom look by using vintage or antique textiles to make throw pillows or cover small pieces like seat cushions or upholstered stools.
One thing major about luxurious living rooms is the custom fixtures you find in it. Get your room a custom look by using vintage or antique textiles to make throw pillows or cover small pieces like seat cushions or upholstered stools.